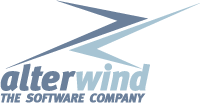 AlterWind Software Releases AlterWind Log Analyzer Professional 3.0
New log analyzer may leave thousands of SEO specialists without work.
AlterWind Log Analyzer Professional 3.0 is a new web site traffic analysis tool that helps regular webmasters do search engine optimization, web site promotion and PPC campaign management on their own, without hiring high-fee consultants. This product is truly unique and here is the proof.
AlterWind Log Analyzer Professional offers over 50 reports, critical to building a successful and profitable web site. For example, in addition to offering standard and ubiquitous reports like "Entry Pages" and "Page Views", this log analyzer has the "Pages Not Visited from Search Engines" report that instantly shows which pages are underperforming in search engines. Armed with this information, webmasters can change tags, content or links and get search engine traffic they've been missing.
Another extremely beneficial feature of the program is fake referrer and referring spam filters. The tidal wave of "scraper" web sites, fake referrers and PPC fraud costs webmasters millions of dollars and pollute logs with bogus traffic that never converts and distorts statistics, inflating numbers. AlterWind Log Analyzer Professional helps webmaster get a realistic picture of genuine traffic and identifies the sources of referring spam/fraudulent clicks.
AlterWind Log Analyzer Professional also comes with a powerful traffic conversion reports module. These reports help webmaster rank referring web sites not by the number of visitors they generate, but rather by the quality of the traffic (quality being judged by the number of sales, for example).
Plus, the program offers a wealth of reports specific to PPC and contextual traffic only - Paths by Search Phrases or URLs, View Depth by Search Phrases or Referring Web sites and others. These reports help web site owners calculate ROI rates for each particular ad campaign or bid term.
AlterWind Log Analyzer Professional supports over 430 search engines and over 120 catalogs from 120 different countries. Importantly, the program has multiple unique algorithms for processing search queries and extracts exact search phrases from them.
AlterWind Log Analyzer Professional 3.0 is available at http://www.alterwind.com for free evaluation. The program supports standard and customized log files. The price of registering the software is 69.00 US Dollars for the standard version and 99 for the professional one.
If you have any questions, would like to request editor's copy, want to inquire about special prices for volume buyers/software resellers, or have a business proposal, please contact Pavel Grusha at support@alterwind.com